I'm always looking for questions to ask my characters; anything to pull them out of their shell and see how they act in foreign territory. I wondered what it would be like if my characters participated in other Middle Grade and Young Adult stories. How would they act in Narnia, or at Hogwarts? It's interesting to see how your characters act in a completely different setting.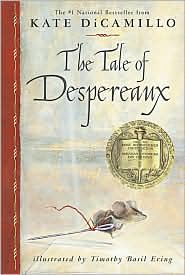 Forgiveness, light, love, and soup. These essential ingredients combine into a tale that is as soul-stirring as it is delicious." — BOOKLIST (starred review)
Welcome to the story of Despereaux Tilling, a mouse who is in love with music, stories, and a princess named Pea. It is also the story of a rat called Roscuro, who lives in the darkness and covets a world filled with light. And it is the story of Miggery Sow, a slow-witted serving girl who harbors a simple, impossible wish. These three characters are about to embark on a journey that will lead them down into a horrible dungeon, up into a glittering castle, and, ultimately, into each other's lives. What happens then? As Kate DiCamillo would say: Reader, it is your destiny to find out.
The Tale of Despereaux
1) What kind of soup would your character make?
2) Does your character believe in him/herself? Do they listen to people who try to bring them down?
3) Would your character fall in love with someone from another species?
4) Would your character want to repent for bad deeds?
5) Is your character envious of any other characters in your story?